When asbestos-containing materials are damaged or disturbed by repair, remodeling or demolition activities, microscopic fibers become airborne and can be inhaled into the lungs, where they can cause significant health problems.
Noah's Floods is hires licensed and insured Asbestos Inspectors, Asbestos Contractor/ Supervisors and Asbestos Project Designers. 
We partner with commercial Asbestos removal services in Colorado. Ceiling tiles, sidings and shingles asbestos removal, flooring asbestos removal etc. services in Dillon, Silverthorne, Breckenridge, Keystone, Copper Mountain, Vail, Beaver Creek, Winter Park, Grand Lake Steamboat Springs.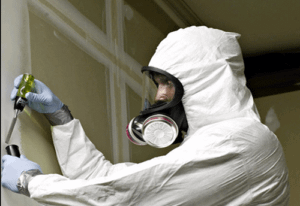 There are several types of asbestos fibers, all of which are fire resistant and extremely durable. These and other qualities made asbestos very useful in construction and industry.
One of the most common uses for asbestos has been as a fireproofing material. Asbestos is an extremely good insulator for fire, heat and sound. Asbestos was added to a variety of building materials and construction techniques to enhance strength.
It is a proven fact that asbestos, when inhaled, can cause various types of cancer, including mesothelioma and asbestos's. Just because asbestos material is present in a building does not mean it is a health hazard. If the material is friable (easily crumbled due to band pressure), and becomes airborne, the risk of someone being exposed to asbestos fibers is greatly increased.
The harmful asbestos fibers are much too small to be seen by the naked eye. An average human hair is approximately 1200 times thicker than most asbestos fibers. Asbestos has been identified as a cancer causing material (carcinogen) and most uses have been banned in the United States.
Asbestos's, Mesothelioma and Lung Cancer have all been attributed to occupational exposure to asbestos. Symptoms of these diseases generally do not appear for approximately 10 40 years. There is no known safe level of asbestos exposure. The scientific community debates the hazards of non occupational exposure, which include exposure in houses, schools and offices. Thus, the health effects of non occupational exposure are unknown. The adverse health effects associated with asbestos exposure have been extensively studied for many years now. Results have concluded that inhalation of asbestos fibers may lead to increased risk of developing on or more diseases

Materials Tested for Asbestos
Why Choose Noahs Floods Restoration Services?

We're Faster to The Disaster
We are dedicated to responding immediately to water emergencies. A fast response lessens the damage, limits further damage, and reduces cost.

We're Highly Trained Asbestos Damage Specialists
We specialize in Asbestos damage restoration, the cornerstone of our business. We have extensive Asbestos Testing training with an emphasis on monitoring and making sure your home is safe.

We Use Advanced Equipment and Techniques
We are dedicated to responding immediately to Asbestos emergencies. A fast response lessens the damage, limits further damage, and reduces cost.
The Best Restoration Service's in the Rocky Mountains
Where Asbestos Occurs Frequently
We're Asbestos Is Found Indoors
We're Asbestos Is Found Outside
We serve communities across
the Rockies, including: